May we help you buy an automobile dealership?
Dear Buying Dealer,
Many people are looking for a good automobile dealership, and as you know, not every dealership is a viable opportunity. We have carefully selected the dealerships with which we have chosen to become involved and sincerely believe we are in a position to fulfill the desires of qualified candidates.
It is essential that we satisfy ourselves as to the financial and business qualifications and the seriousness of the intentions, of the candidates who register with us. Our Buyer's Consultant Employment Agreement is designed to provide us with pertinent information concerning your interests and qualifications so that we can aggressively pursue your best interests.
If you are interested in registering with us, please call us today to obtain our Buyer's Consultant Employment Agreement and the Buyer's Confidentiality Agreement.
Upon receipt of these agreements, we will be in a position to begin discussions with you immediately regarding dealerships that are presently available and to assist you in finding one that meets the criteria set forth by you in the agreement.
If you plan to discuss a dealership opportunity with business associates or advisors, it will be necessary to first secure their signatures to the Confidentiality Agreement. Any planned principals in the new dealership must also sign the Buyer's Consultant Employment Agreement. If business associates, advisors or principals are involved, please have them sign copies of these agreements as well.
Thank you for this opportunity to be of service. Continued success to you!
Sincerely yours,
<![if !vml]>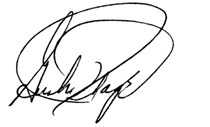 <![endif]>
Gordon T. Page